24 Apr
Urbane Apartments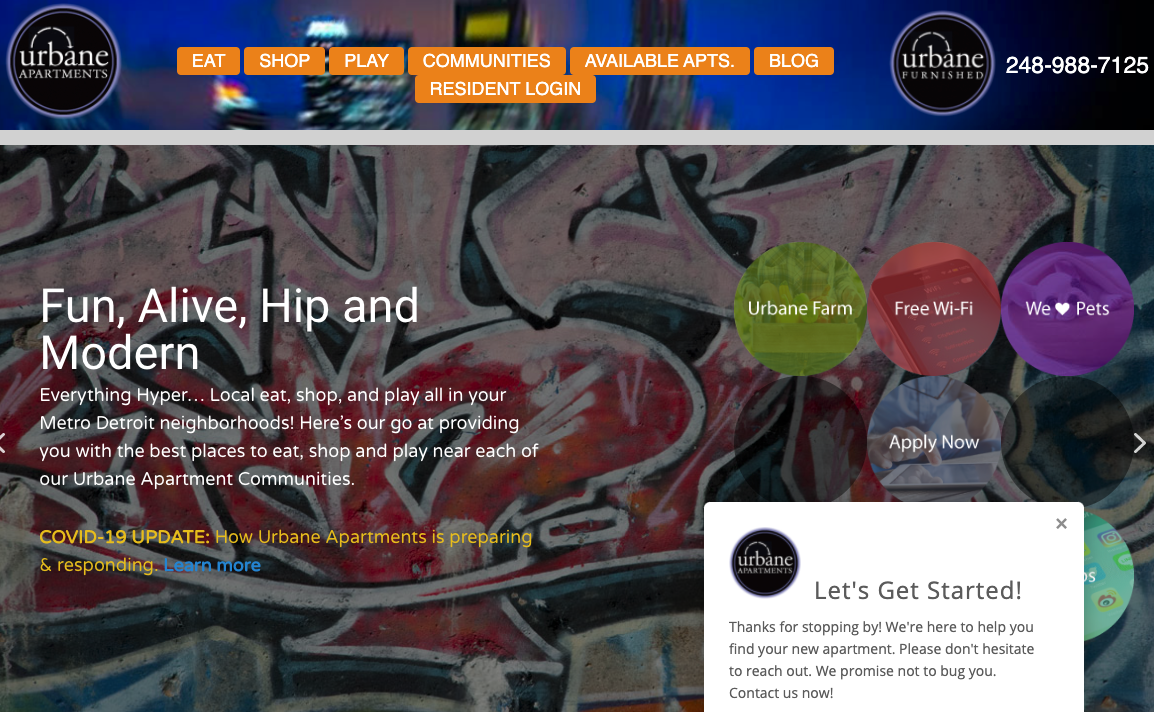 Benefits to living the Urbane Lifestyle:
FREE Wireless Internet (at select locations)!
NO pet fees…NO pet deposits…NO breed or size restrictions!
Online Rent Payments!
Online Maintenance Requests!
Fun Events!
A Fabulous Blog…
Urbane apartments are fun, funky, eclectic, well thought-out. People visiting us out for the first time typically come in knowing that we're a little different, but we're amazed at how many times we hear the same thing from them: "Wow, this is so much more than I expected!" …We love that. It's exactly the reaction we want.
Urbane apartments come with modern design features and boutique-style amenities. We're talking wood floors (laminate or hardwood), loft-style rolling doors, black appliances, updated cabinets and trendy lighting. ceramic, metal, granite … you might even find vessel sinks and dual shower heads. We're welcoming a new generation of residents who have high expectations. We meet those expectations … and then some.
Utilities are NOT included. Residents are responsible for all utilities. We do offer FREE wireless internet at select properties.
You can choose 3, 6, 9 or 12 month lease terms. There is a ONE TIME fee of $500 due at move in for the shorter term leases of 3, 6 or 9 months. This is non-refundable UNLESS you stay in the unit for a period of 18 months or more.
A $300 hold fee (by money order, credit card, or cash) is all you need to take any apartment off the market! We will then need a completed application for each person living in the apartment as well as income verification for each. The $300 hold fee is non-refundable if you cancel your application for ANY reason. If you are not approved, then the $300 hold fee would be refunded immediately.
Security deposit is either $800 or 1.5 months rent. This is determined by your application(s).
A few things that we are not…
Our goal in creating the Urbane Brand Apartments was to give a new face to 1960's vintage and older apartment buildings. We want to be fun, alive, hip and modern, a step away from the traditional apartment home.
We aren't Luxury or Brand New, the age of the buildings remains the same and we pride ourselves on the Antiquity of them as well as all the Character they offer. Like all Characters you may encounter, there are things you will like and some you won't. Boiler heat becomes too hot in the early and late winter when daytime temperatures rise above forty degrees. Sometimes the pipes bang, loudly. The walls are thin, so sometimes you hear more about your neighbors than you may care to know, although sometimes that can be a delight.
Urbane Apartments are Vintage Buildings that we have breathed new life into, with new skin and the skin is pretty cool! If you're looking for luxury, or brand-new then Urbane may not be for you. We are more of a Mini Cooper than a BMW or Mercedes.