13 Apr
The Chocolate Gallery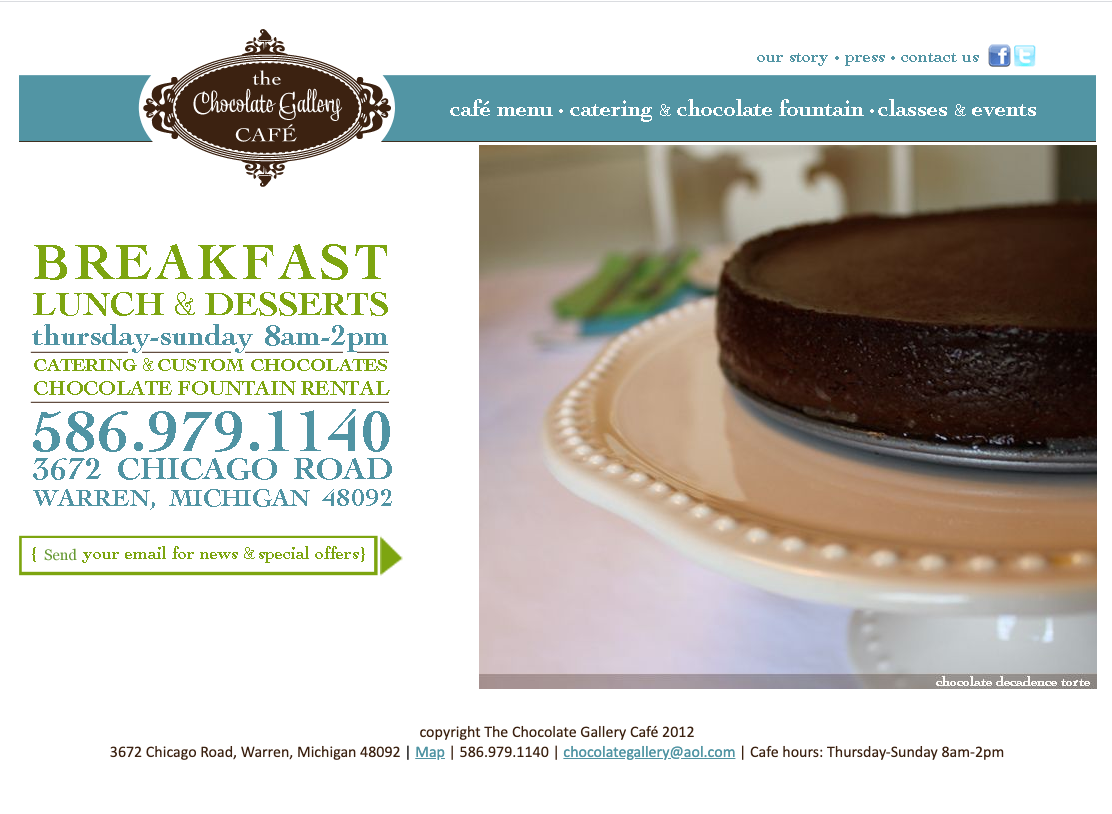 The Chocolate Gallery Café is the pride and joy of Chuck and Cathy LaBash, who opened their doors in the late winter of 1993, and have been serving breakfast and lunch to loyal patrons ever since.
The idea for the Chocolate Gallery Café started back in 1983 when Cathy began creating artisanal handmade chocolates in their home. It took only one bite before people fell in love with her premium chocolates and starting hiring them to make other desserts, hors d'oeuvres and cater full dinner parties. As demand increased and they outgrew their home kitchen, Chuck and Cathy saw a business opportunity to open their own restaurant and share their expertise and love for hand-prepared meals with a larger community. After a long search, they found the perfect little spot tucked away in Warren, Michigan, which has been the home to The Chocolate Gallery Café ever since.
Their business grew to not only the kind of quaint haven where customers became weekly regulars who felt like family, but also an award-winning catering service that has received numerous metro Detroit accolades and media attention. The Chocolate Gallery Café is a weekly destination for breakfast, brunch or lunch for local business patrons, because people know they will not only enjoy a great meal, but will also be welcomed with warmth and top-notch service.
Chuck and Cathy get great satisfaction from seeing familiar faces visit the Café, craving a favorite: Hungarian Mushroom Soup or Strawberry Stuffed French Toast. This made it all the more difficult to temporarily close their doors when Cathy was diagnosed with breast cancer a few years ago. As a family run restaurant, they decided to maintain the catering business, but that it was important to focus on Cathy's health and close the dining room. They continued to receive daily cards, phone calls and visits from patrons who had become family to them, wondering when the Café would open its doors again.
With Cathy fully recovered a year later, they could not wait to get back to doing what they loved. On Mother's Day 2003, The Chocolate Gallery Café reopened and had loyal guests wrapped around the building waiting patiently for a bite of their memorable menu. As Cathy went out to greet each person and apologize for having to wait an hour or more, she was taken aback when their response was "we didn't wait an hour, we waited a year!"
The Chocolate Gallery Café is now open Thursday through Sunday for breakfast, lunch and desserts. After over 11 years in business, they are recognized as a local must-do eating destination in metro Detroit and have the honor of being named Detroit's "A list" Best Breakfast, AOL's "City'sbest" for Best Desserts, WDIV Channel 4's "4TheBest" Best Breakfast. They also continue to cater for top corporate clients and have even been hired to cater for several Michigan-based film crews, including Clint Eastwood's Gran Torino.