29 Apr
Lori's Lick 'Em Up Ice Cream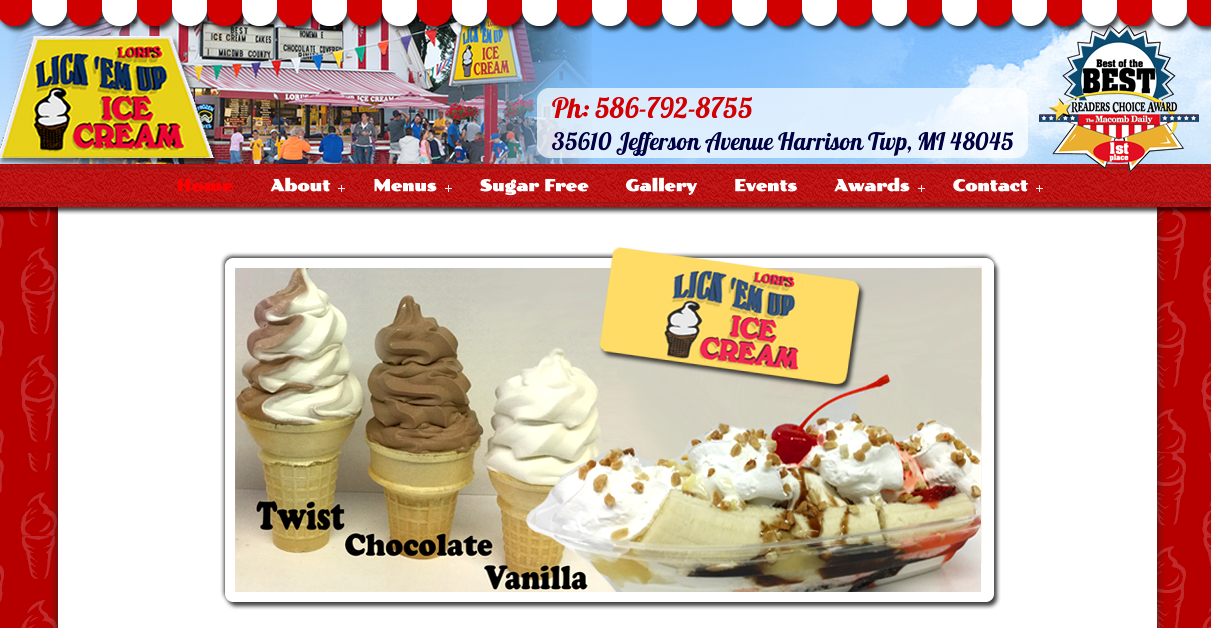 Established in 2004, Lori's is the place to be in Harrison Township, Michigan! Her Highest quality ice cream treats include all of the favorites Cones, Sundaes, Shakes, Malts, Parfaits, Avalanches, Coolers, Floats and Freezes. Lori's parlor boasts more than 200 different ice cream dessert treats!
Other creamy favorites include Banana Splits, Brownie Delights, Strawberry Shortcakes, Hot Fudge Cream Puffs and Old Fashioned Sodas!
Lori hand makes all of their Ice cream cakes and cupcakes, as well as all of the favorite novelties. She also makes her fresh baked waffle cones and bowls daily!
Lori strives to meet all ice cream lover's needs. She has the delicious creamy ice cream loved by many through the years. She also has the spectacular no sugar added/fat free soft serve ice cream with the sugar free toppings (over 40 different selections) for all the health conscious and diabetics. As well as the delicious Dole Whip soft serve that is fat free and lactose free.
The atmosphere is fun for the whole family, sitting inside the parlor or outside enjoying the summer sunshine at shady tables topped by umbrellas. Lori's is also the ideal venue to celebrate your next special occasion or event like birthday parties, car cruises and after-game gatherings.
Lori also contributes gratefully to the community. Participating in many events including Cruises, Christmas Parades and Family Nights. She also graciously donated to the Harrison Township Library, L'Anse Creuse Little League, as well as sponsoring as many as 5 teams a season. She also adopts a family at Christmas and donates to the many churches around town and provides employment opportunities to the younger generations seeking their first job!
Voted "Best of the Best" in Macomb County 10 years in a row, and a landmark for locals and tourists, a trip to Lori's is a must. See you there!