16 Apr
JennysNoodleShop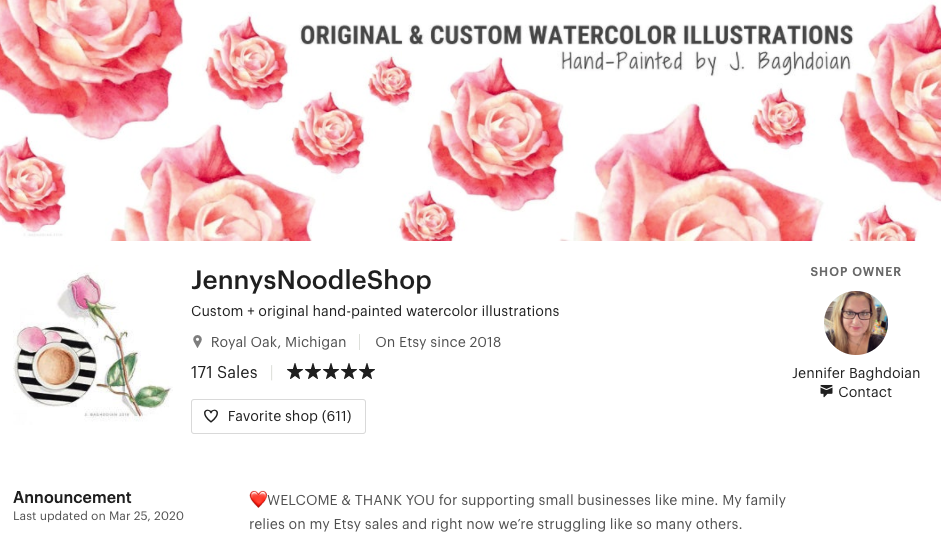 ❤️WELCOME & THANK YOU for supporting small businesses like mine. My family relies on my Etsy sales and right now we're struggling like so many others.
🎨All artwork in this shop is ONE-OF-A-KIND, ORIGINAL, 100% made by my *left* hand. NO reproduction prints/posters/digital downloads here! I draw and paint every illustration entirely by hand using only traditional materials (ink & watercolor). Each piece takes several hours to sketch and paint, even the most simple-looking designs. Such meticulous attention to detail can truly be appreciated when you see the artwork in person.
In addition to ready-to-ship paintings, you'll find a variety of custom options (family portraits, wedding portraits, home portraits, etc.). If you'd like a personalized piece that doesn't fit an existing description, I'd be happy to create a special listing reserved just for you. Feel free to message me with any questions!
Check out my latest project, "Christmas at the White House 2019" at www.whitehouse.gov/christmas
Recent press
*Detroit Free Press – bit.ly/JennyFreep
*WDIV Local 4 Detroit – bit.ly/JennyWDIV
For more examples of my artistic style, please visit my social channels:
www.instagram.com/JennysNoodle
www.facebook.com/JennysNoodle
www.pinterest.com/JennysNoodle
www.twitter.com/JennysNoodle
Thank you for helping to support my small business and my family!