19 May
Deck Coat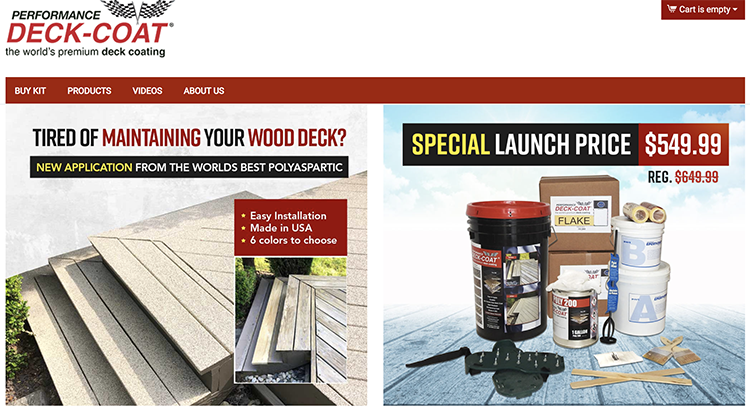 Deck Coat coating goes way beyond what other manufacturers have to offer by providing the only cementitious deck coating products. Deck Coat coating has real value for the customer and gives our dealers and distributors a huge competitive edge. We focus on long term value with special emphasis placed on durability, low or negligible maintenance requirements, permanent protection, ease of application, appealing appearance, and it's friendly to the environment. We constantly work to maintain our competitive edge using the latest proven technologies to achieve cost effective coating solutions that are easily applied.
While Deck Coat coating is newly formulated the product has its roots in time tested concrete coating products that are installed in thousands of locations, over countless square feet, for over twenty years! The core materials of Deck Coat coating have been tested and proven for many years, so you can feel confident the materials you're getting are top quality! Deck Coat re-purposed these core ingredients to fulfill the need to protect wood surfaces as well as many concrete surfaces.
Deck Coat deck coating systems are the recommended solution for restoring, protecting and providing a beautiful finish. We offer permanent cementitious coating solutions designed to meet the needs of industrial plants, retail businesses, schools, airports, restaurants, grocery stores, homes, patios, pool decks, … the list goes on and on!
Deck Coat coating is our premium two component, sustainable, no VOC, water reducible, coating designed for interior and exterior applications. It is a UV resistant, chemical-resistant, flexible coating that is available in any color because you can use any color exterior latex paint with it.
Deck Coat coating is equal to or superior to solvent-based two component deck or dock coatings, yet is virtually odorless and is earth friendly.
Deck Coat Coating is a unique coating that can be applied directly to most substrates without the aid of a primer. Deck Coat coating produces an extremely durable finish that offers superior color retention. It provides exceptional performance designed for a wide range of demanding applications such as pool decks, handicap ramps, stairs, structural decks, decorative floor coatings and other applications. We recommend using it as a top coat for pool decks, patios, sidewalks, etc. where a textured non-slip surface is desired.